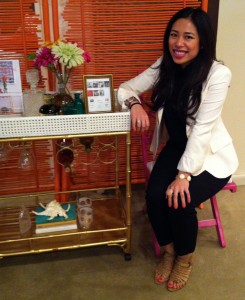 High Point Furniture Market takes place twice a year, in April and October. On Saturday, I had the pleasure of attending my first market. I had the opportunity to interview bloggers and editors attending the market.
I sat down with Roxy Owens, founder and designer for Society Social, and the writer behind the delightful blog, My Cup of Te.
About Roxy
Roxy grew up in a small North Carolina town, just an hour away from High Point, and received her undergraduate degree in marketing from North Carolina State University. Roxy made the move to the Big Apple to pursue an MA in marketing from Parson The New School for Design. She started off in the fashion world, working at fashion week and interning with Donna Karan. After graduation she became a buyer for Belk. When the economy started to fail, she found herself stuck in an office crunching numbers and not feeling creatively fulfilled, and so her blog My Cup of Te was born.
About Society Social
Society Social boasts a line of fun, festive cocktail carts, tables and chairs and accessories introduced in summer of 2011. You can visit Society Social at High Point Market hosted by Acacia Home & Garden, IHFC, Wrenn Wing #346.
How did you enter the blogging world?
I'm one of those crazy, idealistic people, if I'm not happy, I'm not going to do it. I quit my job, I was unemployed for a year. I was happier, I was poor, but happier. During that time I started my blog. I really felt like my blog brought me back to who I was. I read other blogs like Design*Sponge and other interior design blogs and Rue came out and I knew, this is what excites me.
What is the focus of your blog?
My Cup of Te chronicles my personal journey. I blogged about the whole process of starting Society Social. I think that is what helps sets the brand apart. People want a personal connection.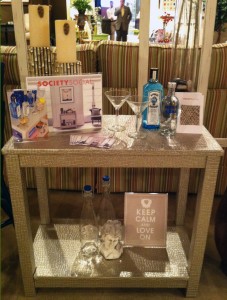 Where did the idea for Society Social come from?
As I read interior design blogs, I saw a gap in the market for fun designer bar pieces at a price point people in their twenties can afford. Personally, I love to entertain and hangout with family and friends. The bar cart is where it all started.
How do you use social media for your blog and business?
I am a huge advocate of social media, which stems from my marketing background. I am always sharing. People like to connect. As a small business owner, I can't afford an ad in House Beautiful, so I use social media to market my business. It's genuine and I love to connect.
It was wonderful to meet Roxy and I wish Society Social success at the market!
You can connect with Roxy on Twitter @SocietySocial or @MyCupofTe.