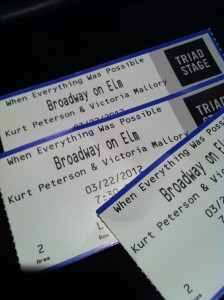 It was my privilege to be an audience member for the premiere performance of When Everything Was Possible at Triad Stage in downtown Greensboro. From the opening notes of the live musicians, masterfully directed by Michael Rafter, who also played the piano for the production, I was as caught up in the performance as any I've ever seen.
Two actors alone occupied the stage, but their command of that intimate space filled the entire theatre. Kurt Peterson and Victoria Mallory bring to the stage their own personal history of pursuing a dream and finding friendship together in the process. Telling their story through spoken word and song, we arrive with them in New York City at the onset of their celebrated respective careers and stand when the last notes are being sung, not because we want to leave but because standing is the only way we know to give back to them our gratitude for what we just received.
For those of you who missed this unique two-performance run in Greensboro, it's not too late to attend the New York City premiere on Sunday, April 29, 2012, at the 2200 seat New York City Center. Personally, I'm grateful to have been part of the much more intimate 300 seat performance in my own backyard.