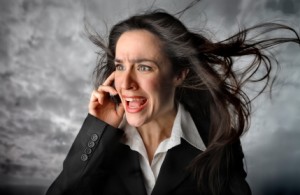 Yesterday while I was attending the WithIt Educational Breakfast at High Point Market featuring keynote speaker Maxwell Gillingham-Ryan of Apartment Therapy 3 cell phones went off. Yup. 3.
I have to say that the first "oops I left my cell phone on" moment brought the room to a chorus of roarous laughter – due in large part to the timing, Maxwell's great sense of humor and the ring tone that blasted the Day-O tune.
The second ring was quickly silenced by a blushing attendee. In the tables around me, I saw that everyone was quietly checking their phones to make sure their ringer was off. . . a reminder that, for those of you who know me from the Linking Greensboro Luncheons, I try to offer before the event starts out of respect for the speaker & those attending the event.
The third ring was the worst. It was a cell phone grenade. Not only did the person continue to let it ring as they made it toward the exit from across the ballroom – they answered it "Hello, Hold on a second I'm attending a conference . . ."  to stunned looks from everyone they passed on their way to the door. Maxwell paused until the person left the room and continued with his brilliant presentation without skipping a beat.
My TECHiquette tip for the next time you are attending an event or anywhere in public that your cell phone will be a distraction to those around you . . . put your cell phone on vibrate.
And if the call that you receive is important . . . PLEASE for the love of all things etiquette, let it go to voice mail until you leave the room and are in a situation to give the caller your full attention and NOT be a disruption to those around you.
—
As a speaker, how do you handle the situation when a cell phone grenade goes off?
How do you handle the situation when your cell phone accidentally goes off at an in opportune moment?
Do you have a ritual of checking your phone before you take you seat at an event or enter a quiet space?
[UPDATE] Be sure to check the your alarms on your phone too! I was attending Julia Rosien's presentation and had an alarm go off to my deep embarrassment. Just because your ringer is off does not mean that your phone will be silent!