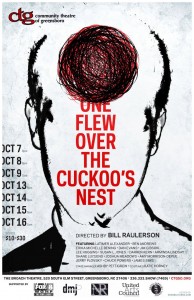 Community can mean lots of different things to lots of different people, especially depending on when – and whom – you ask. This is a subject about which I've written before. Many of us create and/or join different "communities" to fill different needs in our lives, and as a result find ourselves gravitating in and out of a wide variety of circles. There are likely individuals who share multiple of our communities with us, but not necessarily.
Thinking along these lines lends a whole new meaning to community theatre. As an active member of this particular recreational company – I love the fact that individuals from multiple walks of life share a common love and passion and together create something to be enjoyed by members of a larger social group.
So whether you're an actor, who loves the prospect of creating an entirely different and believable person on stage, or a director, who lives to bring all those moving parts and pieces together, or an audience member, who appreciates the temporary world that's being shared with you, community theatre is a cog in the wheel of your social community. Participation by all members is what allows it to function.
One Flew Over the Cuckoo's Nest is a production that requires an intense commitment on the part of the entire community. And as one of the actors in this upcoming production by the Community Theatre of Greensboro (CTG), I can assure you, your participation as an audience member is not only greatly appreciated, but important to those of us on stage as we rely on your immediate feedback throughout the show to remind us of our own (albeit temporary) reality in these roles.
Please join our community, at least for one night, at the Broach Theatre in downtown Greensboro. Opening night coincides with First Friday, on October 7, so come early to enjoy a downtown dinner before the curtain rises at 8. The show will have a run of seven performances, total, which gives you plenty of opportunities to come more than once! Show dates and times are October 7, 8, 13, 14, 15 at 8:00pm, and October 9 and 16 at 2:00pm.
I look forward to sharing a community experience together with you at the Broach. Look for me on stage: I'll be Candy Starr: the one wearing the cowboy boots.