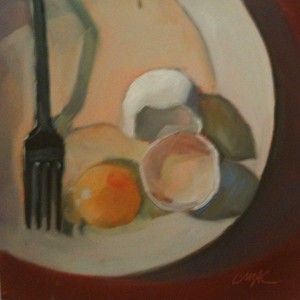 Author and Fine Artist Carolyn McDonald was a pleasant discovery at High Point Furniture Market thanks in large part to Time Frame who showcased her work.
Carolyn's bold colors and 'one a day' style was a refreshing break from the trite.
You can feel her sense of joy and unique commitment to color in what many would consider mundane subject matter. It was her visible joy in the everyday that drew me in and piqued my interest.
"My inspiration comes from my surroundings and relationships.  I hope to be a student the rest of my life.  I learn from painters such as Degas, Cassatt, Van Gogh, Gauguin, Sargent, Hopper, and Thiebaud.  Also, I gain perspective and skill from more modern day masters such as Dawn Whitlaw, Michael Shane Neal, Paula Frizbe, Timothy Thies, and Carol Marine."