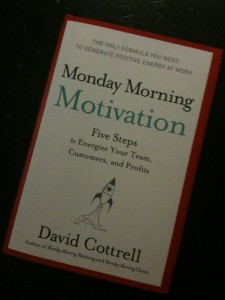 If you haven't picked up the book Monday Morning Motivation – Five Steps to Energize Your Team, Customers and Profits by David Cottrell – it is a must add to your business bookshelf.
Whether you are a small business owner, a mid level manager or a CEO – David will guide you to effectively motivate and energize the way you interact with your business. It takes commitment to become successful and making sure that everyone on your team has the same level of commitment as you is vital to your businesses bottom line.
In chapter 6 we learn that high level employee engagement has a measurable impact on the bottom line. Companies who have a strong internal communications programs are more successful than those who don't.
Take a look at the top 50 most admired companies. How are they engaging with their own army of brand ambassadors? What are they doing to empower their top performers? How are they keeping their teams motivated and on task?
"The most important element of the communication conductor is to connect the corporate goals and objectives with the activities on your team."- David Cottrell
This brings us to the Monday Morning Discussion questions from page 105 –
How often do you as you team for feedback and input? Do you receive it constructively and genuinely listen to the ideas?
Do you promote a culture of learning within your team? What additional information and knowledge can you share with team members so they will better understand the business of your business?
How can you tear down the walls and create better connections within your team? Between your team and others in the organization?
If you are interested in making your Monday morning meetings meaningful – take time to pick up Monday Morning Motivation, Monday Morning Mentoring and Monday Morning Choices by David Cottrell. His books will change the way you do business.
xxx
How does your company communicate?
Does your company ask for valuable feedback?
What company do you look toward for inspiration?