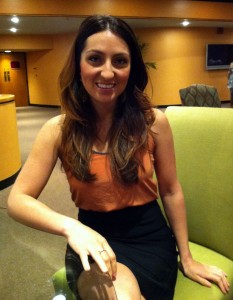 High Point Furniture Market takes place twice a year, in April and October. On Saturday, I had the pleasure of attending my first market and had the opportunity to interview bloggers and editors covering the market.
Crystal Gentilello, founder and editor in chief of Rue Magazine, was kind enough to spend some time chatting with me about Rue and her experience at the market. She is also a Style Spotter at market, so make sure to follow her board on Pinterest.
About Crystal
Crystal has a background in English and journalism, but has a true passion for design. After college, while working for a publisher, she became friends with a couple of interior designers. Their success planted the seed that design was a feasible career option. She started a design blog (formerly known Plush Palate) as an after work hobby. With her eye for design, she was able to form a captive audience. Two years after the launch of her blog, she made the decision to launch Rue Magazine.
About Rue Magazine
Rue, an online lifestyle magazine, was founded in 2010 by Crystal and Anne Sage. Since its inception, it has become a leader in the shelter magazine category.
Where did the idea for Rue Magazine start?
After blogging for two years, I had the idea for the magazine. I didn't realize how much work it would be to create a magazine. As I was setting up my first photo shoot, I mentioned it to a friend, Anne Sage. She was really excited about the project. She became involved and took ownership of the project, becoming a bona fide co-founder of Rue.
What are your plans for your personal blog?
Rue is my number one priority and passion. I wake up and thinking about Rue and the future of Rue. My blog is fun and a great way to have a daily conversation with my readers. It also allows me to be part of the design industry daily.
How will your experience at the market tie into Rue?
I think it is important for bloggers and editors to come to come to High Point because it is one of the biggest trade shows in the country. You see everyone; it is a great networking opportunity. It is a great place to spot trends and see the best of the best in one spot. Without a doubt, some of our finds at High Point Market will show up in Rue's upcoming issues.
Where do you see Rue going in the future?
I want to continue to grow our readership, online presence and advertising program. We would like to publish more often. Right now we come out every six to seven weeks. We would love to bring that down to every four weeks to provide our readers with more content. The possibilities are endless right now in our day and age because of technology. We are excited about making it an interactive experience. We would love to see the business grow in an e-commerce way. There are a lot of exciting things in the works that readers will start to see.
The next issue of Rue is scheduled for a May 3 release. You can connect with Crystal on Twitter @crystalg.