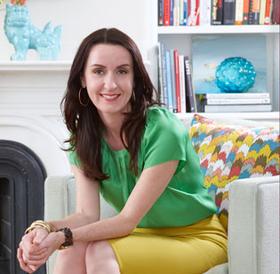 Kristine Kennedy is on a mission. Since becoming the Editorial Director of  Wayfair.com, the largest online-only retailer of home furnishings, she has made it her mission to bring the pride and passion back to the label of "homemaker". . .  one blog post at a time.
With a dynamic approach to building the Wayfair brand and a fresh digital presence, Kristine has made social media content her main focus by creating a growing community of loyal brand advocates and "She is committed to offering inspiration, ideas, advice and conversation to everyday people."
The Wayfair brand is offering customers, who are passionate homemakers, inspiration and value as well as information.
Committing to an active online presence on social sites such as Pinterest, Facebook and Twitter as well as having a stable of industry influencers like Kate Smith, president and chief color maven at Sensational Color, Matthew Mead, former style editor of Country Home magazine and Erika Johnson, the voice behind Radiant Republic blog (just to name a few) Wayfair shares with readers a colorful and active community of inspiration with 'My Way Home'.
Kristine shared quite simply that Wayfair is committed to bringing nobility back to the moniker 'homemaker'.  "We want it to be a description about those who are passionate about their home, and we all are passionate about our home."
Note: Special thanks to High Point University for hosting the 2012 Knabusch Shoemaker Seminar where Kristine Kennedy was the keynote speaker.
—
Do you blog about your 'homemaking' adventures? If so, what makes your house a home?
Is an active online presence key to making you more loyal to a brand like Wayfair?
Were do you look for home inspiration online?